35 Best Work-Life Balance Tips for Busy Moms
Have you ever thought of losing your own work-life balance 'coz it just gets busier every single day?
Whether you're a Working mom, a Stay at Home Mom, a Business Owner, a Blogger, or a Coach, it all plays a common thing-we're all BUSY.
As a first-time mom, things have changed since I got back from Maternity Leave. I'm no longer thinking about myself…I have another person who's dependent on me from changing diapers, changing clothes, feeding, dropping off and picking up at the Dayhome, and setting up play dates, it's not easy at all.
Truth be told, we are struggling to live up to unrealistic work-life balance expectations.
Today, I am happy to share 35 Best Work-Life Balance Tips from women who strive to maintain a healthy and balanced life.
Check this out starting off with yours truly.
---
1. DECLUTTER YOUR MIND
Mitchelle is the Founder and Owner of the MamaBuzz blog and the MamaBuzz Creations shop. MamaBuzz is a Mom and Baby Lifestyle Blog where MomLife keeps buzzing with Mom and Baby Activities filled with Self-Care Ideas, Family Adventure, and Life Inspiration. Her goal is to inspire others on how to balance MomLife and their overall Health & Wellness with a baby!
Find her on Instagram and Facebook.
MamaBuzz Creations is your One-Stop-Shop for Matching Shirts and Custom Designs. At MamaBuzz Creations, we aim to connect and provide you with lasting memories by using our Unique and Custom Designs that match your needs.
2. PLAN YOUR SCHEDULE

It is all about schedule. A good app, daytimer, chore and meal chart will keep you on track. I do much of the same things each day in my work and rarely stray from my plan. Chores are spread out throughout the week and the menu is planned ahead. The vehicle is always packed and loaded for what might be needed including water and snacks. A to-do list each day with the thing you hate most done first.
Allyson Kirchner started Tupperware in 2007 as something to do while home with her new baby and blended family. She only intended to dabble. Things changed and she found herself single with 3 kids, a past career where she had let her licenses lapse and no idea what she was going to do.
That is where Tupperware stepped in. The friendships, support and training are amazing. She became a Director in 2008, earned a trip to Disneyworld for 4 in the midst of a nasty divorce and was able to be there for her children through it all.
Along the way, she has made lifelong friendships, earned trips and cars and been able to support her family. This past year she was offered one of two business leadership positions in Calgary and she is pleased to say….the best is yet to come!

Find her on Instagram and Facebook
Helping people in their kitchens to eat healthily, stay organized, save money and be good to the environment with our amazing cooking tools, prep containers, and storage solutions.
3. PRIORITIZE YOUR TASKS

My best work-life balance tip is to create a daily schedule. Even though I can't follow the planning to the T since I have an active toddler running around the house, having a schedule will ensure that I prioritize my daily tasks.
As a stay-at-home mom who used to work 40+ hours, I have to be disciplined in order to get things done while caring for my baby.
I think planning my day really helps with ensuring that I also squeeze in me time to recharge as well as to stay mentally and physically healthy.
MamaBear Finance runs an Etsy shop where she sells financial templates to help moms stay on top of their finances. She also blogs about money management skills at mamabearfinance.com.
Find her on Instagram and Facebook
Mama Bear Finance inspires parents to take control of their money and achieve financial independence.
4. SET YOUR LIMITS

Keep things in perspective when it comes to your priorities. Remember you're doing all this to probably spend more time with your family and loved ones. So if it's detracting from that too much then it probably isn't worth it. If you don't set limits and schedules you probably won't be too successful balancing everything.
Nici Brooks is a blogger who hopes to help new moms and busy moms get their lives organized.
She's a mother, wife, teacher and high school athletic director. She also blogs at Sassy Smart & Simple and does Pinterest VA services. She started this whole journey to help others and hopefully be able to stay home with her kids someday.

Find her on Instagram and Facebook
5. TAKE CARE OF YOURSELF

Take care of yourself. If mama's needs aren't being met, she will have a harder time meeting the needs of her family and job. I have the best work-life balance when my mind is balanced, and I achieve that by asking for help when I need it, setting aside a little time for me, and maintaining healthy habits.
Jenn is the proud nerd mom of a rambunctious little man and sassy toddler girl. She is also the proud wife of a brilliant and funny nerd dad. She and her husband bonded over a shared love of nerd culture, and she looks forward to hopefully passing some of that love on to their kids.
She started The Nerd Mom when she became a stay-at-home mom as a way to keep doing what she loves – writing – and hopefully, make a little extra money. She wanted to reach out to other moms with helpful parenting tips while also connecting with fellow geeks who are passionate about their favorite books, movies/TV shows, and video games.
Find her on Instagram and Facebook
The Nerd Mom is a blog where she shares tips, advice, and stories about being a mom, being a nerd, and how they overlap.
6. KNOW THAT THERE'S NO PERFECT BALANCE

GRACE- knowing that there is no such thing as perfect balance. When the scale is heavy on one end, the other end is a little lighter. And that this is just a season. Some days or weeks are a little more work heavy and some weeks are a little more mom heavy. It's going to ebb and flow. It doesn't serve me to constantly feel guilty about not spending my time with my family while I'm working and on the flip side feeling guilty that I'm not working when I'm with my family.
Jen Anderson is a happiness coach from hitting rock bottom a few years ago. She was struggling with life- despite having nearly everything that she had ever wanted- an amazing husband, 3 awesome and healthy kiddos. She was staying at home with them. It was a dream come true, but she didn't have a clue who she truly was anymore. Little did she know that the hardest time of her life was guiding her to turning her passion of helping other women into business. Where she is able to have it all- be there for her family and empower and inspire people around her. It was heavy at the time, but now looking back, she wouldn't change a thing.
Find her on Instagram and Facebook.
I guide women into deepening the relationship they have with themselves so that they can truly own their happiness by letting go of the crap that holds them back.
7. USE A CALENDAR

Use the calendar on your phone.
Sasha blogs about budgeting to financial freedom, frugality, side hustles, and reaching goals over at Your Frugal Friend Blog. She shares her tips on how to start a digital products business. She hopes that you are inspired to start your own digital products business to reach your financial goals!
Sasha started her side hustle after stumbling across digital printables on Etsy through Pinterest. She thought, "Wow! I could do this!" And she hasn't looked back! She makes and sells digital products for personal finance, habit tracking, and goals.
Find her on Instagram and Facebook
8. BUILDING "WORK TIME" AND "FAMILY TIME" SLOTS
I build "work time" and "family time" slots into my day. The last thing I want is for my business to completely take over my "real life." I don't want to miss out on all of the precious moments with my family because I am busy promoting or writing. I find that I can build a "work time" into my morning routine after 2 of my kids get on the bus and the other 2 get busy playing. I build another work time slot during naptime/quiet time in the afternoon and then a 3rd slot after everyone goes to bed. I try not to check social media or be working during other times if I can help it.
Crystal Garman grew up on a farm in Illinois. She went to college in MO and had a degree in English and a Masters in Elementary Education.
When she became a mom, she decided to stay home with her daughter, but when she turned one, she started looking for a creative outlet to both help her with the SAHM identity crisis AND financially benefit their family.
Her Etsy shop was born in 2011. Then, in the fall of 2019, she decided to take things up a notch and start a parenting blog to accompany her Etsy shop, so her blog Simply Full of Delight began!
Find her on Instagram and Facebook!
Simply Full of Delight offers practical help to parents. She writes about parenting, family, foster care, and faith. She strives to encourage fellow parents to slow down and find joy in their current season of life. She also has an Etsy shop, Baby Delights, where she makes and sells baby gifts.
9. FOLLOW A TO DO LIST

I have a very active almost 3-year old baby girl and for months I told myself I can work on my business when she naps or when she goes to bed. Wrong! She is extremely active and busy. By the time she goes down to bed, I am in bed right after.
Instead, during the day typically after breakfast, I put her in her playroom and she is usually able to play on her own for 1.5 hours.This is my time to really work and I follow my business to-do list strictly which allows me to cross off a lot without breaking concentration.
In the afternoon while we play, I am typically able to do some social media posts and return emails. When my partner gets home after work, I am able to put in another 1.5 hours of work before dinner and the night routine. I do this every week night and on weekends I can get more done. In total I can get 20-25 hours of good work in!
Divine blogs over on Ladies Make Money Online where she shares her best tips for busy entrepreneurs to make money online!
Ladies Make Money Online is a blog for women by women! If you are interested in learning more about career tips, financial tips, travel, and other lifestyle tips, then you want to stick around as they have so much to share!
Find her on Instagram and Facebook
10. CHOOSE YOUR TOP 3 THINGS
There is always a million things to do every day. Instead of being overwhelmed by this list, I choose the top 3 things I have to get done today. This keeps me focused on what is really important and if there is time to do more, then I do it. But I don't beat myself up at the end of the day when my to-do list is a mile long.
I always make one of those top three things something non-work or business-related. Because you can't take care of everyone if you don't first take care of yourself. Once I tackle those top three things, I make sure to turn off work at the end of the day so that I can be present with my family.
Toni-Ann is a full-time dentist and reservist in the Navy. In addition, she is a mom, wife and blogger and podcaster at Real Happy Mom.
Real Happy Mom was started to give moms encouragement and practical tips for motherhood because this is the hardest and most rewarding job that moms have. Real Happy Mom is a space for moms to find encouragement and practical tips for this journey called motherhood.
Find her on Instagram and Facebook
WHAT'S RECENT IN THE MAMABUZZ BLOG?
11. KEEP YOUR EXPECTATIONS REASONABLE
The thing that has helped me the most is keeping my expectations reasonable. I've found that sticking to no more than two clients a month is my sweet spot. It means that I can focus on client work during my work hours without feeling like I need to work longer. That has made such a huge difference for me.
Mallory Herrera started her business, like many, because she wanted to find a better way to be there for her family. Her husband is also in the military and moving as often as they do makes having a career difficult. Starting her own business was the perfect solution.
She started her business in order to help more women break through the glass ceiling and reach their entrepreneurial goals. She's dedicated to helping female entrepreneurs find their ideal clients online with a strategic website so that they can work fewer hours while making more money. Her background in IT as well as her experience in the online space, has helped her grow the business and she wants to help others do the same.
Find her on Instagram and Facebook
Mallory Herrera Online Business Solutions is dedicated to helping female entrepreneurs find their ideal clients online with strategic website design and strong SEO.
12. PLAN YOUR WORKLOAD
My best tip on maintaining a work-life balance is planning my workload ahead of time. I do a lot of my business work late at night after my son is in bed or during his nap time, however, I schedule out the tasks that need to get done 1 week in advance. This way I'm not spending extra time doing tasks that can wait for another day or getting sucked into something else.
Staying on track with my schedule is KEY to managing my business and being present in parenting on a day to day basis 🙂
Karissa Whitman is the owner & blogger of FitMommyStrong. A blog dedicated to providing education & support for new & expecting moms in a judgment-free space!
She started her blog, FitMommyStrong, after she experienced a very rough transition into postpartum after her first son was born. She dedicated her blog to providing educational content to help new & expecting moms prepare for life after birth so they don't go through the same struggles she did! Aside from blogging, she loves going on little adventures with her boys, spending time outside with their doggies and staying active via weight lifting.
Find her on Instagram and Facebook
13. STRONG COMMUNICATION
It might sound strange, but communication with my husband is number one.
We sort of run our marriage like we run our businesses. We do annual and quarterly "offsite" retreats (aka vacations) where we spend some time relaxing, but also time planning and communicating about what's working and not working in how we divide up responsibilities.
We break down how we want to be spending our time and what gives us joy versus what we can outsource. I wouldn't be able to run a side business, do my day job, and be a mom if it weren't for strong communication and collaboration with my husband.
Kylie Tuosto hand-illustrates children's gifts like blankets and onesies, flashcards and memory games, and more! She is a maker at heart and she absolutely loves designing new products and taking custom orders.
In 2015, two weeks before her wedding, she found out that she had thyroid cancer. She got very lucky in that it was very treatable, but it really made her pause and take stock of what was important in her life. She always wanted to run her own shop and she felt life was too short not to take the plunge! With some inspiration and support from her friends, she launched her first product (Animal Alphabet Flash Cards) on Etsy. She loved it so much that she just kept on creating!
Find her on Instagram and Facebook
14. IT'S ALL ABOUT THE MINDSET
The first tip of work-life balance is that there isn't one and we need to own that.
Running a business has its challenges and being a mama has its challenges. I don't think you can be 50/50 every single day. Some days my little one needs mama more, so my business takes a backseat. Other days, my business needs me to push through and get stuff done and maybe my kids don't get 100% of me.
But balance is also about the mindset of being a business owning mama or a mama with a side hustle. We have to set priorities to things and make sure those things take precedence. Then the rest of the things that come up need to fall behind our priorities and we don't feel bad for saying no.
Samantha Semans is an Ads & Social Media Strategist for female entrepreneurs and local businesses. She loves helping people scale their business using social media.
She just had her fourth child who had some complications after birth when she realized she could not go back to the job that she loved forever. So she started researching "stay at home" work opportunities because she knew she still needed to bring home an income. Samantha started as a virtual assistant who did all the things for people and niched down to Social Media & Ads.
Find her on Instagram and Facebook
15. GETTING UP EARLY
Lately, I tried getting up early (4am) so I can finish work early and spend more time with my daughter towards the end of the day.
Joice was a university instructor for 5 years, then decided to quit when she got pregnant. She ventured into freelance writing when her daughter was born to help her husband with finances. Writing was something she'd done as a hobby without any formal training. She learned the specifics as she acquired clients. She is a freelance content writer for SEO and she's also learning web design.
Find her on Instagram and Facebook
16. MAKE A GOAL CHART
My number one tip is to make a "goal chart." This has helped me TREMENDOUSLY in being able to see my goals and to see the progress of checking them off one at a time.
The goal chart can be one you make from scratch or a cute printable one from online. Either way, the motivation it gives you is more than you would expect!
Leslie is a 35-year-old mother of 3 living in California. She has two older stepsons, Noah and Jonah, who are 19 and 13, and a toddler, Harrison, who is almost 2. She is married to the love of her life, Eric, and they just celebrated their 4th anniversary.
Prior to becoming a content creator (lesliewblog.com and youtube.com/lesliew1923) and social media influencer, she was a preschool teacher and a Chief in the U.S. Navy. She is set to graduate with her elementary school teaching credential and Masters in Teaching in May of 2020.
Her favorite things include her family and the precious time she has with them, making and creating things (she loves a good DIY project), saving money (she is the queen of clearance and budgeting), and watching a good crime-drama on Netflix.
She creates content as an outlet to share with other women the things that she is most passionate about and that brings her joy, in hopes of bringing others joy, as well. You will find a lot on her various platforms – topics including family, organization, and lifestyle, bringing readers content like her latest DIY project, to her most recently-found "mom hack", to a post venting about being a stepmom. You will find it all on Leslie W., because Leslie W. is a place for the women and mothers who do it all.
Find her on Instagram and Facebook
Blogging & YouTubing about family, organization, lifestyle for women and mothers, grad school for a masters in teaching & teaching credential
17. SET YOUR AUTOPILOT MODE ON
The more routines you implement into your life, the less stress you would feel. When you don't have to think about what to do next and you wake up in the morning knowing exactly what your next couple of hours would look like, your morning and rest of the day would flow easily and calmly. If your kids are aware and accustomed to that routine it would make their life simpler too.
The first two hours of my day look pretty much the same each day. The more good habits you incorporate into your routine the better. For example – set the kids' clothes out for them the night before. My kids know when to start getting dressed in the morning. Since they are early risers unlike me, they are usually dressed by the time I am up and running. When I get the kitchen in order the night before, breakfast is a much faster and more efficient process and so on. Having a set routine is what our family counts on. It makes life much more manageable and balanced for us all.
After being a stay at home mom for a few years, Madi Dearson finally got some free time back when kids started school and she wanted to go back to work while still being there for them. She took advantage of her writing background and started creating content for small business owners. She also created her own blog which is all about living your dreams and growth whether it's career growth, personal growth or growing together as a family.
Find her on Instagram and Facebook
Madi Dearson is all about content. For some clients, she creates marketing content on a permanent basis. For others, she helps them focus to find their business/blog "voice" and brand messaging so they have a system they can implement on their own in the long term. She is also currently developing a one-on-one course to help bloggers and business owners "get" the Pinterest strategies that can help them grow.
18. SPEND INTENTIONAL TIME
Gaining a work-life balance when you work from home with your kids can be tough. Not every day will go smoothly and as a work from home mum, sometimes I just have to go with the flow of my children.
But, what I have found to be incredibly helpful is to ensure to spend 'intentional' time with them before I get to work. What I mean by intentional is to ensure I set myself away from any work distractions, put down my phone and be completely present with my children. This essentially helps to fill up their cup. They are content and happy to have had mummy time first thing in the morning. Then, when it's time to do a couple of hours of work, they are able to play between themselves.
I also make it very clear of our schedule, ensuring my children know that it's mummy's work time and what we plan to do afterward. My children are 2 and 4, so they are able to play between themselves and have a better understanding than younger children might.
For younger children, perhaps you could use a visual timetable at home or have shorter blocks throughout the day. Being that I'm a morning person, my most productive time is in the morning, hence for my family, it works best if I can get two hours work done in the morning and then have the majority of the day with my children.
Catherine Wilkinson began her work from home career as an online ESL teacher and realized there were so many other mums wanting to work from home but didn't know-how. She wanted to help mums have that extra time with their kids that they often dream of, by supporting them with ways they can realistically earn an income working from home and online.
Find her on Instagram and Facebook
Caite Elizabeth is a blog supporting mums who want to work from home to be more present with their kids. Through top tips, resources, and careers that can be done from home.
19. INCLUDE YOUR CHILDREN IN YOUR BUSINESS
Include them in your business. Doing so gives a wide range of benefits to your children. It's another way to spend time together and share your passion and also instills work ethic, responsibility, and you can incorporate money management.
Pay them a small salary and then help them budget and learn good financial habits from early on. And when they are older hopefully they will be able to start their own business without having to ever get a corporate job. And the best part, it's another way to spend time together while teaching valuable lessons!
Montanna is a 34-year old entrepreneur. She owns 3 businesses and her biggest passion and reason for leaving her corporate career as a licensed bank auditor was to fill a gap in educating and helping small business owners with business compliance. There are so many rules and regulations that apply to small business owners that we tend to learn before it's too late and there are not enough quality resources that are not incredibly hard to understand. Not only does she get to do nerdy compliance work, but she gets to be a small part of helping others create their dreams and impact the world doing so!
Urban Consulting, LLC specializes in business compliance from incorporating your business, ensuring website compliance, any and all audit services, and HR services as well.
20. TAKE ADVANTAGE OF YOUR SPARE TIME
Take advantage of all your spare time (once the jobs are done), evenings and nap times. Think of ideas and note them down when your little one is awake.
Sylvie got the idea in the night! She is studying for a BA in geography.
Find her on Instagram and Facebook!
Travels With Eden is a blog documenting Sylvie going on solo backpacking trips with her baby. She's a Cornwall local, so it also includes a Cornwall travel guide for people coming on holiday.
21. KEEP REALISTIC EXPECTATIONS
The best way to ensure work-life balance is to keep realistic expectations. You cannot try to cram 26 hours worth of activities into a day. So when you're making your plan of the day, cut back.
Write down 2-3 essentials for work and 2-3 for home. If you get it all done, there is always more you can add. But most days, that is enough. You'll make progress and have some downtime, which will help make your business sustainable.
Lisa Tanner is a former teacher turned homeschooling mom of nine. Five years ago, money was really tight and they were deeply in debt. She wanted to do something to boost their income but didn't want to go back to the classroom. So, she started looking for ways to make money from home. She started freelance writing, and have been making money consistently ever since. Over the years, she added on two other income streams – virtual assistant work and blogging.
Find her on Instagram and Facebook!
Lisa Tanner Writing helps busy moms calm the chaos and make time to start and grow a home business, with their kids at their side.
22. GET YOUR FAMILY INVOLVED
I'm not going to lie, trying to manage work-life balance as a mom is not easy. It's tough!! Still to this day I sometimes have a hard time with it, but slowly I am figuring it out. My best tip for trying to manage it would be to get your family involved. Tell them when you are going to be working. That way your spouse knows to not let the kids bother you and the kids also know to leave mommy alone.
Jordan is a mama to two boys, a 4-year-old and a 7-month-old. She started Creations by Jordan 2 1/2 years ago. At first, it was just a hobby, but now it has turned into so much more than that. There is just something about creating a customized and personalized item for someone that just makes your heart feel so full. She loves being creative and bringing customers ideas to life. She is able to customize almost any item via one of her two methods, vinyl or sublimation. The design options are endless.
Find her on Instagram and Facebook!
Creations by Jordan personalizes and customizes just about any item such as cups, clothing, canvas', bags and much more! She has two methods, one is vinyl and the other sublimation. While sublimation is a more permanent method, vinyl allows for a lot of different styles of items to be used. Her items make really great gifts that people can treasure for a while.
23. BE SUPER INTENTIONAL WHEN SPENDING YOUR TIME
Being super intentional about how I'm spending my time! I'm sort of a workaholic. It can be easy for me to work the day away, but when I do that, I feel even more mom guilt than normal and I miss out on my kids' day. I have to work consistently because of our financial needs, but I also have to schedule blocks of time into my calendar that are JUST for family. I usually add one in the morning, an hour for lunch, and then I commit to closing my computer or setting my phone down at 4 or 5PM until the kids go to bed.
I think I initially felt weird about "scheduling" family time, but since it's a priority, it only makes sense to put it in my calendar. Since I started scheduling my family time during workdays, I've felt so much more connected and "in the moment" when I'm hanging out with my kids and husband.
Ciara Guerrero is a WordPress web and sales funnel designer for service-based business owners. She slove building sites with some strategy behind them versus just focusing on the pretty stuff. Her favorite part of her job is definitely connecting with other work from home moms who are building/scaling their businesses (I have no WAHM friends!)
Ciara started learning to code when she was about 13 and just became obsessed. She discovered WordPress a few years later and started using it to build websites for fun. After she became a mom 10 years later, she needed a change in her life – She was a retail manager at the time and decided to try to make the switch to working from home as a web designer. It was a process (She had a coding background, but had to learn design from scratch), but she went full-time with web design 1 year after starting it as a side gig.
Find her on Instagram and Facebook!
24. SET BOUNDARIES
Having a schedule helps a lot. Making sure you schedule time for the different aspects of your work will keep you focused. You need to have a set end time so it doesn't interfere with your family time. Let clients know what your "office" hours are…have an automated email that says you'll respond during your "office" hours…setting boundaries will also help keep work from infringing on the rest of your life.
Nina Christy, the founder of Inspire a Connection Design and Marketing, offers women with creative business services that include Brand Logo Design, Website Design, and Marketing. Her goal is to help women grow their business so they can continue to do what they love every day.
With over 20 years of experience in the marketing and graphic design fields, as well as being an artist, she understands the need to be a creative entrepreneur. Visit www.inspireaconnection.com for more information and to schedule a free Discovery Call.
Find her on Facebook!
Inspire a Connection Design and Marketing helps women with creative businesses, attracting customers and increasing sales through Brand Logo Design, Website Design, and Marketing Services.
25. PUT YOUR FAMILY'S NEEDS FIRST
Family always has to come first! This means those duties/to-do lists come first. If my business feels like it is taking a toll on my family, this negativity affects me and my business.
I have four boys. That means my family has a lot of needs! I know that when I fill my needs and my family's needs first, my attitude toward my business is positive and I feel more inspired! Every Sunday I make a daily to-do list for the week on my phone. This includes blog goals/to-dos and family needs and plans. Often putting my family's needs first means stopping mid-post/project to attend to my family. But in the long run, my business is all about my family and for my family!
Amanda is a mom blogger at momof4gentlemen.com. She was inspired to cater to moms of boys! Being a mom of 4 boys she knew there are unique challenges that moms face with all boys. Shes love being an all-boy mom! It is truly something special and she wants others to feel the same, so she started momof4gentlemen.com! A blog dedicated to raising boys. It is boy mom heaven! She's growing and learning so much. Her biggest inspiration is knowing her content might lift another mom up. She loves creating new content and connecting with other moms! It's a fantastic creative outlet.
Find her on Instagram and Facebook!
Mom 4 Gentlemen caters to moms with sons and all-boy-moms. She works to support boy moms as we all seek to raise good men! Posts include hacks, tips, and boy mom support! She wants to lift and inspire mothers of boys!
26. HAVE A DEFINED SCHEDULE
At the beginning of each week, I take a look at the calendar to see what important things I have coming up, both work and personal. I then pencil out an idea of what my week will look like, including any appointments and when I will work.
Having defined when I will work each week based around my obligations for the week allows me to keep firm boundaries between my work life and home life which ultimately allows for work-life balance.
Tea a stay at home mom that owns a home-based bookkeeping business for a living. After becoming pregnant with her first daughter, she knew immediately that she wanted to find a way to work at home. She decided to take a medical transcription course and worked as a medical transcriptionist until their second daughter was born. At that point, she decided to find something new and that fits her interests a little better. Fast forward about a year, she began working from home as a freelance bookkeeper for local small businesses. Five years later, she still runs her successful home-based bookkeeping business.
Find her on Facebook!
As a virtual bookkeeper, she does the bookkeeping for small businesses from her home office.
27. GO WITH THE FLOW OF YOUR ENERGY
This balance is ALWAYS a work in progress. One of the systems I'm using right now that is working well is going with the natural flow of my energy and my daughter's energy. She tends to be able to play well independently in the morning after waking up. This is when I will do some work in the same room as she is playing.
When she starts getting antsy or needing more attention, we usually head out for the day. I'm in mom mode during this time. I switch to work mode when we're back home before dinner.
At this point she has had fun outside of the house, had mom time, and missed her toys, so she's (usually) content to play a bit more independently again. I get dinner ready and work while it's cooking. This "going with the flow" works well for us, and I'm lucky that my side hustles are very flexible.
After having her baby, Suchot Sunday realized how much she wanted to stay home with her, especially for the young years before she is in school. She started looking into work at home side hustles, tried a few, and honed in on her two favorites.
Find her on Instagram and Facebook!
The Curious Frugal helps moms live a fabulous life on a budget, and find flexible work-from-home jobs.
She can help you learn:
how to get out of debt in manageable steps
how to make saving money easier
creative ways to make money from home
frugal hacks for family travel
how to save money on food
and much more!
28. LET GO OF THE IDEA OF DOING EVERYTHING EQUALLY
To me, balance isn't about spending an equal amount of time on each area of my life. It's a state of mind.
For me to feel balanced, I have to let go of the idea that I need to do everything equally. Instead, I decide how to spend my time based on what I most need to feel fulfilled and satisfied in that moment or for that day or week. I take a moment to turn inward and assess how I'm feeling and what I need more of to feel at ease.
Sometimes that means staying at home with my kids for quality time, even when I spent the whole weekend with them already – maybe the weekend was really busy and we didn't really even LOOK at each other. Sometimes that means taking more alone time because I feel burnt out. At the end of the day or week, it's never an equal balance, but it's the RIGHT balance for me.
Mae Kroeis started her business as a professional coach when she realized that even though she really cared about her career field (Community Development in Addiction and Mental Health Promotion and Prevention), she didn't feel like she was living to her full potential. She felt stuck. She wanted to feel like she was really living life to the fullest. She wanted the freedom to live her life focused on her values and priorities and the flexibility to use her strengths for the greater good.
She left a stable, well-paying job to complete a professional certification as a coach and start her business, even though she had already done plenty of schooling, including an undergrad in Psychology and a Master's Degree in Public Health-Health Promotion. As she builds her coaching and consulting business, she continues to do other work she's passionate about, like freelance writing and workshop facilitation in mental health promotion and positive psychology for community groups.
Find her on Instagram and Facebook!
Mae believes everyone should love the work they do because we spend the majority of our lives at work. So, in Maek it happen Life Coaching, she helps people figure out what they're really meant to be doing with their lives and go for it. She does this through vocational coaching with individuals or groups. She also helps workplaces create environments where staff can love what they do through positive psychology workshops and consultations.
29. GET THINGS DONE WHEN KIDS ARE ASLEEP
WOW! Try to get as much done when they are asleep. It's amazing how much a working mom can do in an hour. I bet it is like 8 hours all wrapped into 1 hour!
Tamara Gehring is a Health and Wellness Specialist who was searching for a natural product to help tighten her post-partum belly after the birth of her second child.
Jennifer Way, a CIDESCO trained aesthetic and beauty technician and an expert in the field of essential oils, formulated an all-natural and effective balm to suit her needs. After a brief meeting, the two discovered a shared passion for safe, natural and effective products. This coming together brought forward the creation of True Nature Essentials, a body and wellness care line designed to specifically address the needs of women and their families.
Find her on Instagram and Facebook!
True Nature Essentials support moms in looking and feeling their best with the help of their products and help their kiddos also feel their best!
30. BE WILLING TO SIT DOWN AND DECIDE
The only resource we have that comes in limited amounts is time. We have to be willing to sit down and decide the amount of time we are willing to devote to work. This will look differently for each family. I prefer to work during daytime hours while my children are in school because I want to be available and present for them when they are home. Time freedom is a huge thing for me.
Sandra Hudson is a wife, mom of 2, blogger and network marketing leader. She believes we were made to be more, and her passion in life is to encourage women to grow in their self-confidence, and self love so that they can let their light shine.
Find her on Instagram and Facebook!
Sandra Hudson is a lifestyle/beauty blog where she shares life hacks, beauty tips, recipes, mom life, and motivation. She blogs about inspiring Beauty in the mess. Life is messy, but it is so much more beautiful when we have the support of our tribe.
31. DESIGNATE TIME TO WORK WITH YOUR SCHEDULE
It can be so difficult to find the time to balance kids, the household, work, and if you have one, a side-hustle!
My best tip is to schedule your time! Maybe that means finding a sitter or lining up nap time to have all of the kids on the same schedule, but if you don't schedule a time for work, you won't find it.
When I'm spending time with my family, I want to be fully focused on them. By keeping a calendar and designating time to work, I am able to divide my attention appropriately. Because of that, I am able to be successful in each aspect of my life!
Lindsey is a mom to two, a labor and delivery nurse, and a mom blogger! She started her blog as a fun hobby and outlet, and it's turned into a side hustle along the way. She loves helping other moms like herself and sharing her advice and expertise as a labor nurse.
Find her on Facebook!
These Hungry Kids is a blog about motherhood and parenting from conception onwards, where shes help moms from all walks of motherhood navigate life and parenting!
32. TAKE CARE OF YOUR MENTAL HEALTH
I blog about self-development and mental health for moms!
Renee Shaw is a full-time blogger and freelancer. She started her blog when she was newly pregnant and looking to connect with other mothers like herself. She just moved across the country, away from her whole family and all her friends, and her blog and Instagram was her way of socializing while going through a "scary" new thing. She started on Instagram with a "microblog" (writing long captions) and developed around 3000 followers pretty quickly. She knew she loved writing the most and wasn't as connected to Instagram as a platform, so she decided to do something with her blog that was just sitting there. Now she's writing content weekly.
Find her on Instagram and Facebook!
33. CHOOSE 1-3 GOALS TO WORK ON
So many people are overwhelmed and scattered all day long. My tip is to choose 1-3 goals MAXIMUM to work on (my time frame that I work from is on a quarterly basis, but feel free to choose something different).
Each goal translates into a weekly action. For example, Goal 1: Spend more quality time present with my family. So every week on Wednesday night, I put all the work away and spend at least an hour being completely present with my family. No cell phone, no computer, etc. When you know Wednesday night snuggles are around the corner, you'll stop letting things throughout the day distract you and you'll get more done AND then you'll have a mindset of work = later, so you'll be able to be more present with your kiddos.
Setting these goals will help you stop struggling with feelings of overwhelm and get super focused and productive while staying present with loved ones.
Becca Rich is a Holistic Time Management Coach, Energy Healer, and Yoga teacher.
A friend had to basically drag her to go to the hospital because she was super sick from overworking herself. She decided the colds that never truly went away, frustrating overwhelm that prevented her from actually doing anything, and missing out on her life to get more work done, was enough. She started learning everything she could about how to change her mindset and heal herself. She became an energy healer, yoga teacher, and coach.
When she started a business teaching others yoga, she realized it was another ball game. She didn't know how to plan a wedding, be an engineer and yoga teacher, and grow her own business. She spent long hours beating her head against an imaginary wall. She was irritable and cranky all over again. Her body was achy and tense from sitting in front of her laptop for hours. She was so passionate about building and growing her business. But she couldn't help anyone else if she was exhausted and overwhelmed all the time. So, she shifted her mindset from working harder to working smarter. She combined her knowledge of holistic health and her engineering/organizational skills to create Becca Rich Wellness as it is today.
Find her on Instagram and Facebook!
Becca Rich Wellness helps hard-working and passionate online entrepreneurial women take back control of their day so they have more time, focus, and creativity to grow their dream business with the life balance they're longing for.
34. DON'T BE AFRAID TO SAY NO
I create a schedule and prioritize. You can't be afraid to say no because it's impossible to always say yes. Sometimes it's just no, and that's okay. You have to know what your priorities are, and then stand by those. Then create a schedule.
I try really hard to block my time. I block time for my kids, time for my blog, time to clean and organize, and time for me (all scheduled around my work schedule). Sticking to a schedule makes all the difference, and lowers my anxiety and stress level. It's also important to have a day at least once a month where you do absolutely nothing!
Charlie Alexander is a mom of 2 kiddos, a boy and a girl, toddler and 1st-grader. She work full-time as an athletic trainer in a Sports Medicine clinic and she blogs part-time on the side. She started her second blog just a month ago. Sh owned a blog prior to that for about 18 months. She decided she really liked connecting with people about things she felt passionate about, so she started blogging.
Paper Scissors Craft is a blog about kids' crafts and activities. She shares how to spend time with kids on a small budget and with little time. She loves connecting with her kids through creativity, and it's easier than most moms think.
35. STOP THINKING THAT YOU WILL FIND BALANCE
When I think of balance, I always imagine standing on one foot and staying very still. I don't think a work-life balance can exist this way. In fact I think even believing there is 'balance' is a slippery slope for a mom.
After my 3 kids, 3 businesses and teaching career I now try and think of balance as sets of waves. I know that sometimes it's all work and sometimes it's all family. All I try to do is be present where I am because I know soon the ride will change and I'll be pulled in another way.
So my biggest tip is to stop thinking that you will find balance … it's not hiding anywhere. Just starting thinking of it in a different way.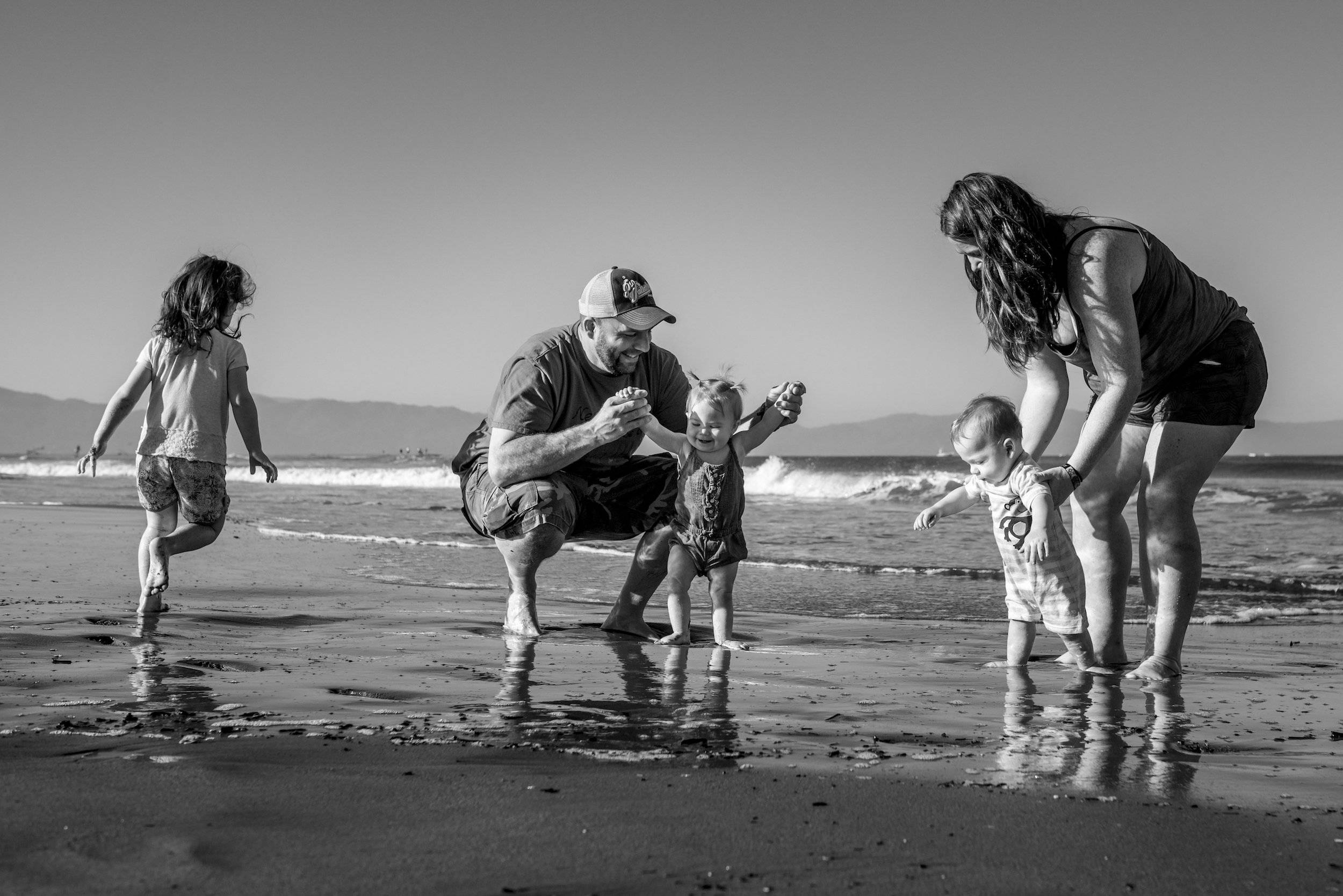 Lynnsy Plunz is a mom of twins and created Make It Night when they were 7 months old. She was overwhelmed. She felt like her days were full of bottles, diapers, laundry, and repeat. She was craving starting and finishing something – instead of just repeat. But there was no time. When her twins were born she also had a 2-year-old. Her hands were more than full…She didn't have enough hands. That is when she found she had an amazing community of mothers, grandmas, friends, neighbors, and even strangers in parking lots who supported them.
She always knew it took a village to raise a child but she never knew it took a village to lift a mama. She wanted to give back and foster a community that spends time together – maintaining those extremely important connections. She found out other moms felt the same way she did.
That's when she created Make It Night. A custom DIY night that is all about you. YOUR project, YOUR friends, YOUR time.
Find her on Instagram and Facebook!

Make It Night offers Curated DIY workshops set up all around you and your custom projects.
There you have it. I hope you found some helpful Work-Life Balance Tips that you can apply in your own motherhood journey. In celebration of International Women's Day, I wish all of these amazing women a year of success and a healthy balanced life.